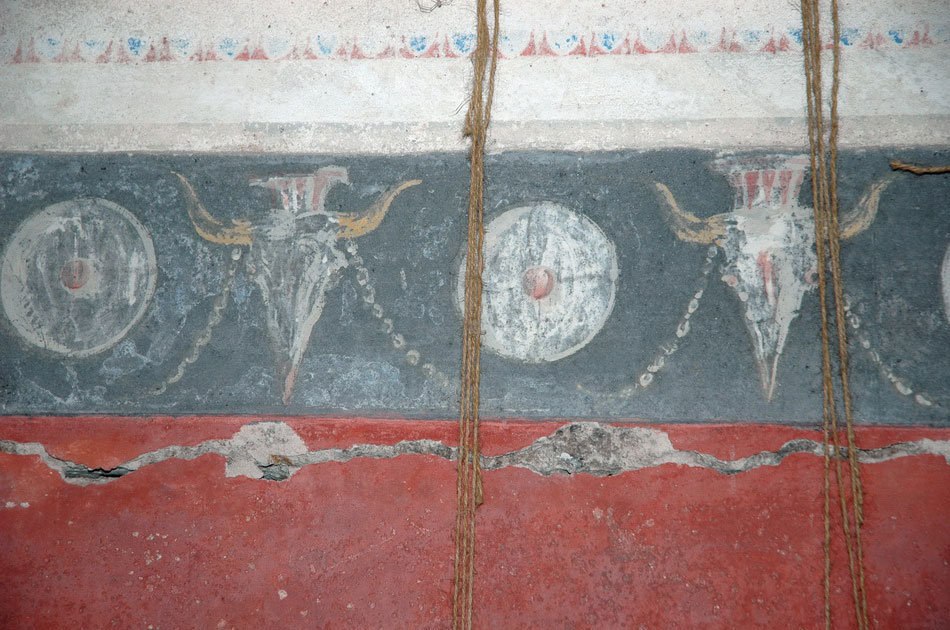 The Macedonian Grave III in Agios Athanasios of Thessaloniki is a monument of historic value relative to that of Vergina, showcasing extraordinary murals. In the past it has been looted. The tomb, that includes in its center the grave, was partially dismantled while in excavation and it is a part of a greater archaeological site that measures 27.895m2. The rehabilitation of this complex was the subject of a Request for Proposal from the Greek Ministry of Culture.
The main design principle was to allow for visitors to access the tomb's interior through the implementation of an exterior shell that will promote the monument, while providing protection for its adequate preservation. At the same time, the intervention should be discrete without altering the tomb's original image.
The scheme is composed from distinct spaces that are organically linked. Through a discrete entrance and a linear low-lit arc pathway, reminiscent of a sacred space, the visitor is guided to the vestibule and then the room of the Macedonian Grave, a stark space that elevates the monument.
The visitors' path is constructed as an elevated ramp of precast concrete and ends as the wide vestibule plate. In the vestibule and the main room a prefabricated metal stage is proposed that is covered with wooden or glass panels allowing for the view of the ancient road. A sloped excavation surface is defined, where the trench of the ancient road and patio is integrated.
A crucial point of this proposal was the search for the ideal geometry of the internal curve of the Grave vault, with the main criteria being its structural performance, its lightness and the maximum height clearance above the monument.
The proposal came second in the committee's preference, while the proposal that was finally selected was a multistory building that included a 10-person elevator situated in the tomb's interior.
It should also be noted that according to the brief's main restriction, the entire intervention shouldn't allow for any additional interference on the already excavated tomb. This restriction led the team towards the adaptation of strenuous structural solutions and construction methods. Several years later, the current state of the tomb, also seen in aerial views, is dispersed piles of debris scattered throughout the archaeological site…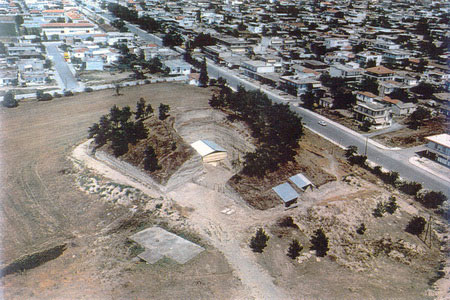 THE TOMB, BEFORE AND AFTER THE EXCAVATION.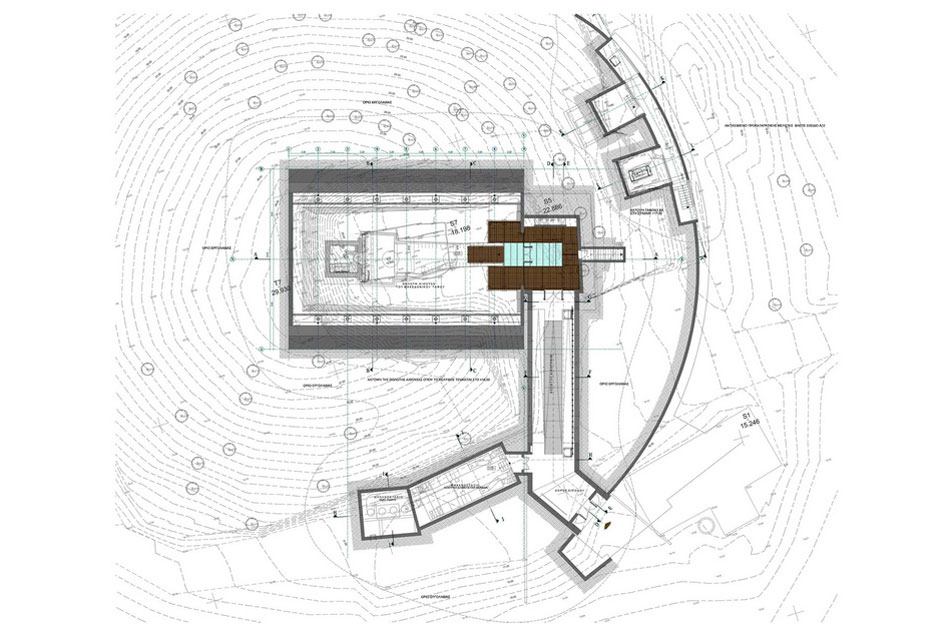 FLOOR PLAN. THE GRAVE VAULT WHERE LEADS THE CURVED PATH.ON THE LEFT,THE IMMERSED ,TO THE TOMB, AREA OF THE ELECTROMECHANICAL FACILITIES.ON THE RIGHT, THE TWO SMALLER GRAVES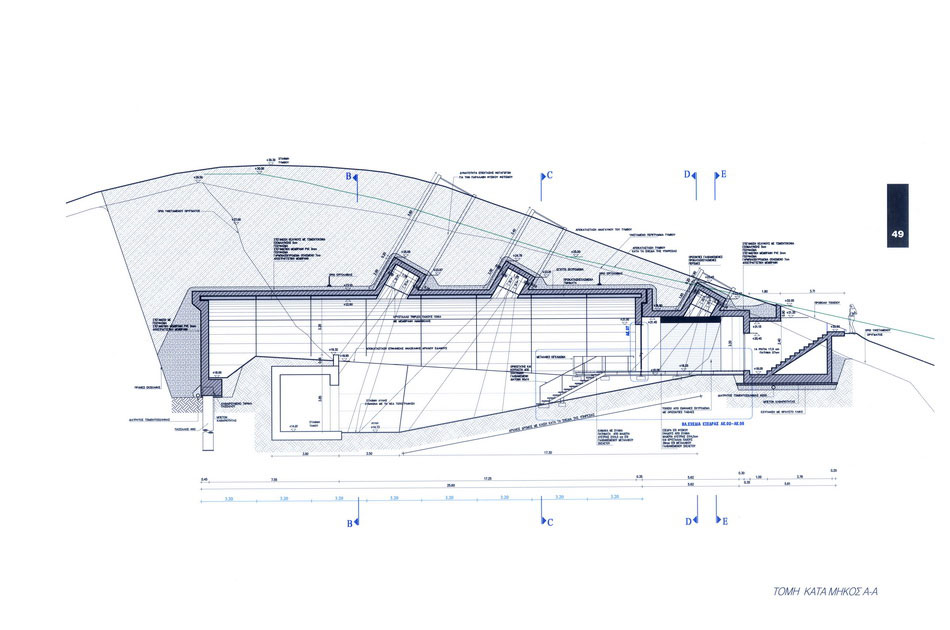 SECTION ALONG THE HALL OF GRAVE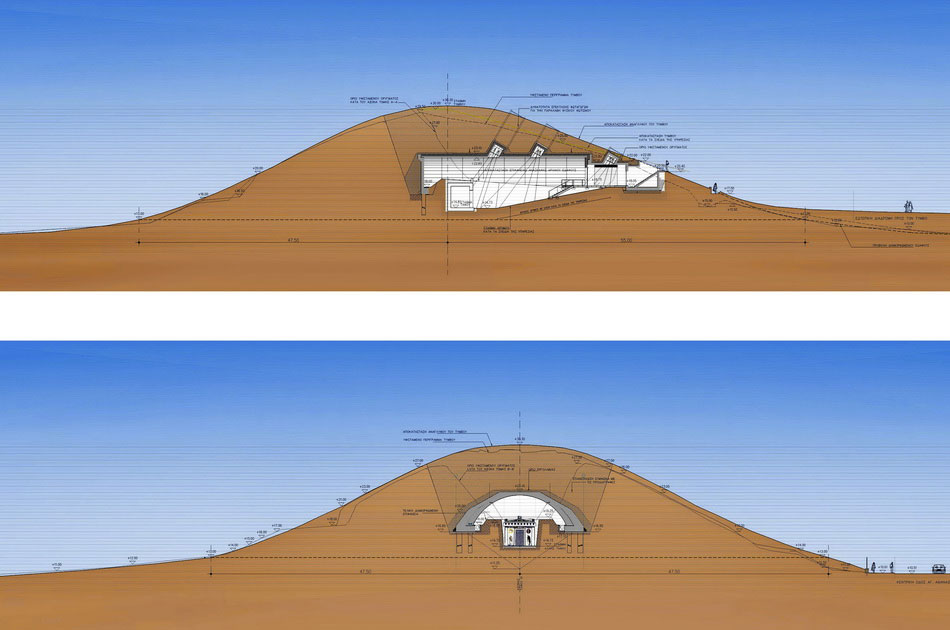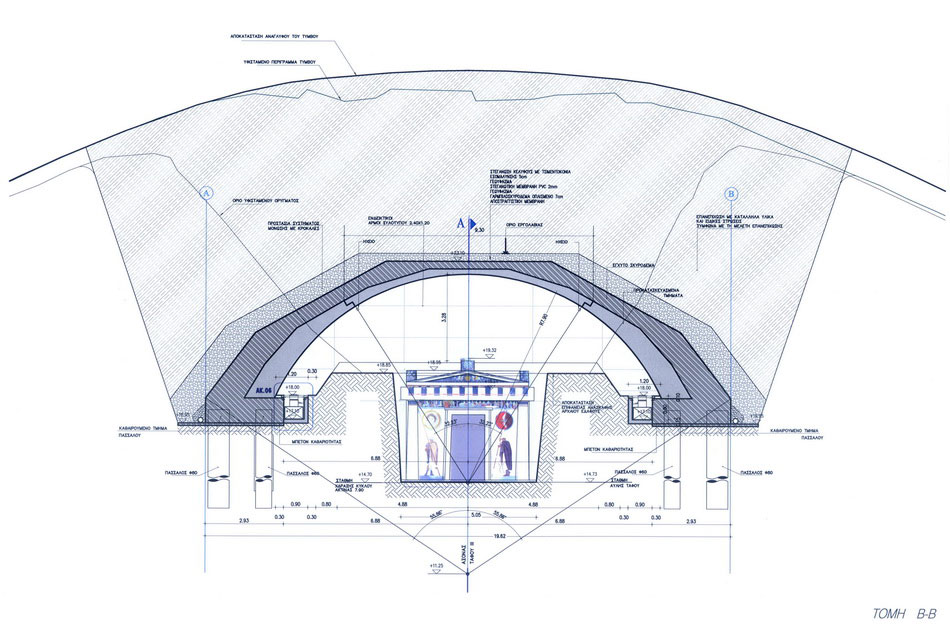 SEEKING SIMPLICITY IN THE HALL OF GRAVE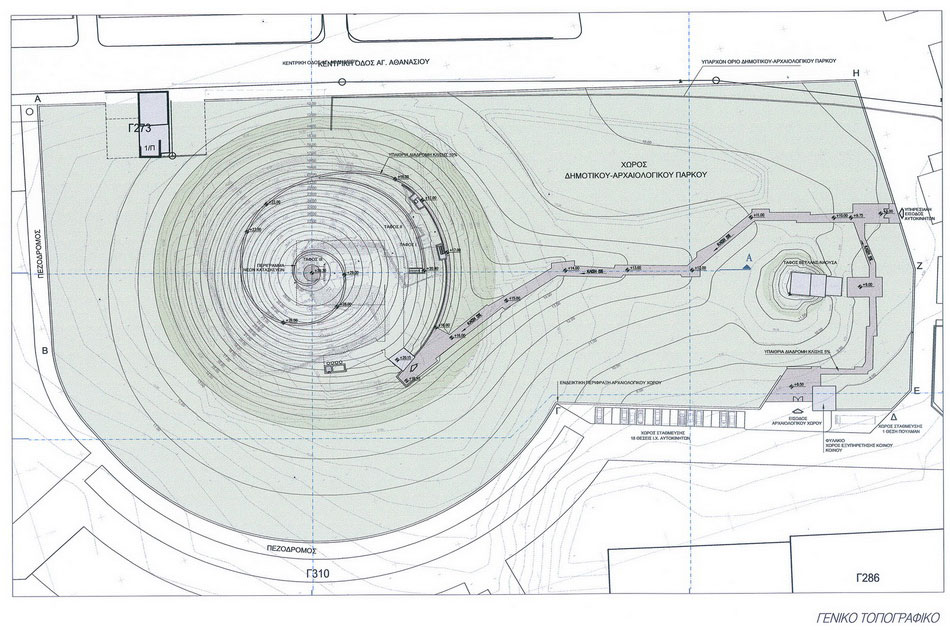 GENERAL LAYOUT OF THE ENTIRE ARCHAEOLOGICAL SITE


ELEVATION OF THE RESTORED TOMB, ON THE RIGHT APPEARS THE ENTRANCE TO ITS INTERIOR


 THE VAULTED EVOCATIVE PATH THAT LEADS TO THE LOBBY AND THE HALL OF GRAVE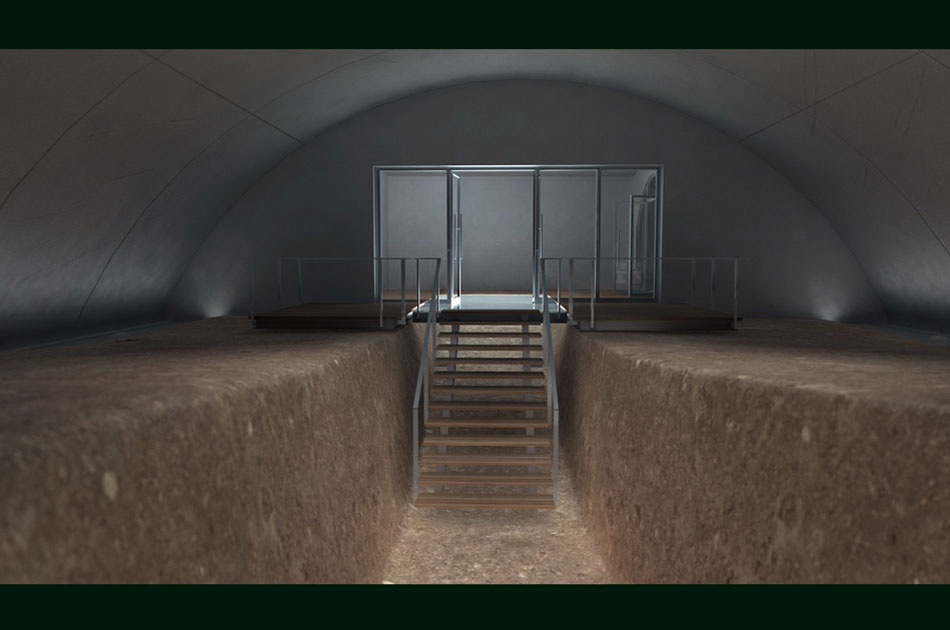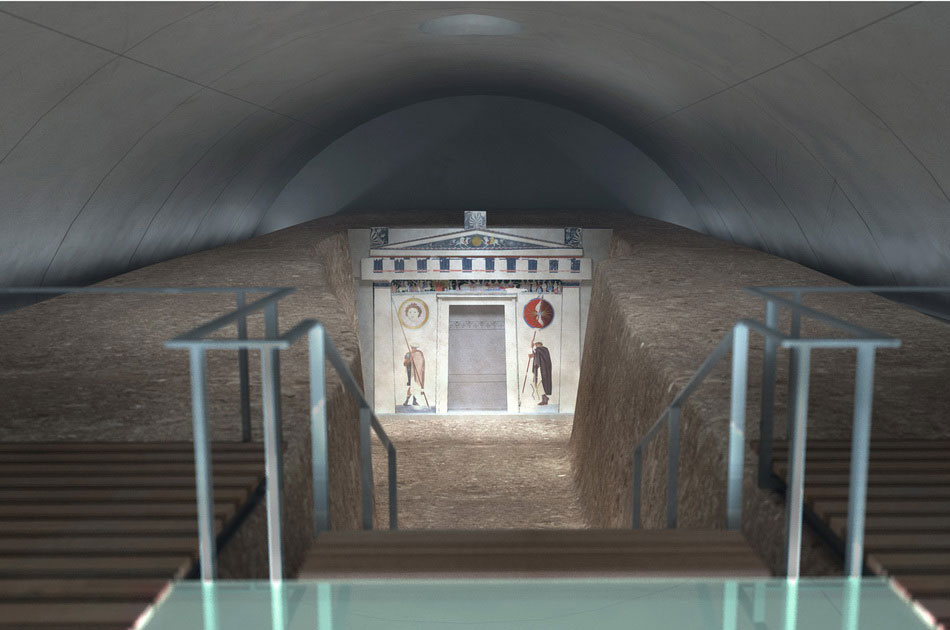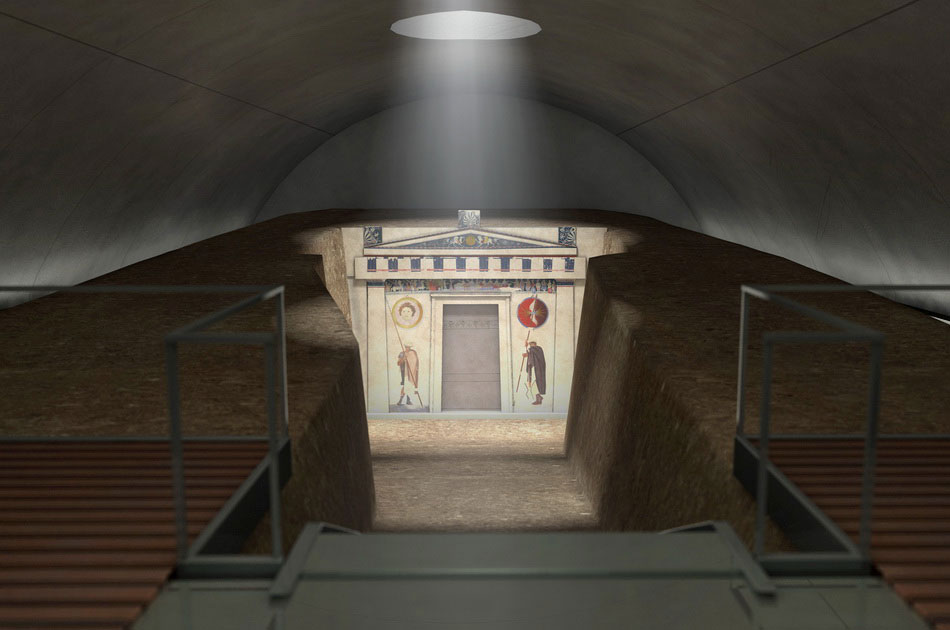 από την μελέτη φωτισμού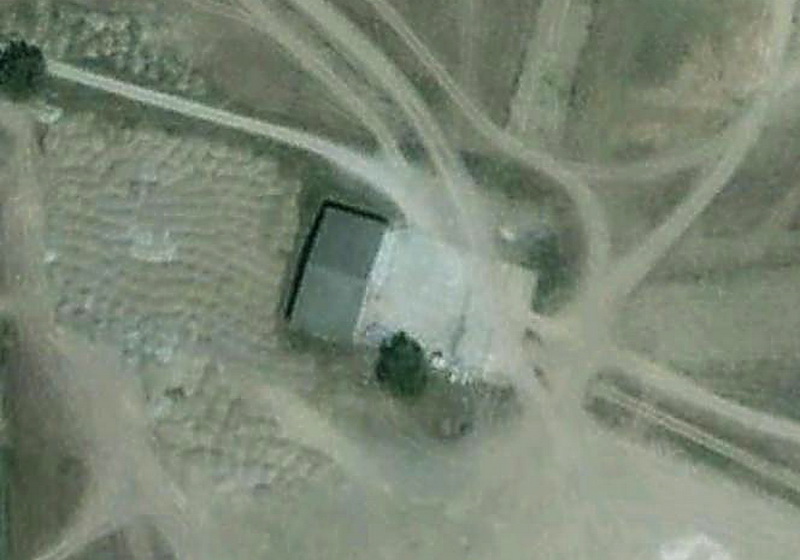 AND THE IMAGE FROM THE SATELLITE (GOOGLE EARTH)WHERE THE TOMB IS PROBABLY SPREAD TO KNOLL ON THE ARCHAEOLOGICAL SITE
RESTORATION OF MACEDONIAN TOMB III & REMODELLING OF THE TOMB'S MONUMENT
SITE: AGIOS ATHANASIOS, THESSALONIKI, GREECE
YEAR: 2007
COMMISSION BY: GREEK MINISTRY OF CULTURE, GENERAL DIRECTORATE FOR THE
RESTORATION, MUSEUMS AND TECHNICAL WORKS, DIRECTORATE FOR THE RESTORATION OF ANCIENT MONUMENTS
COLLABORATION WITH "PROET" CONSTRUCTION COMPANY
ARCHITECTURAL TEAM: GEORGE TRIANTAFYLLOU & PARTNERS,
G. TRIANTAFYLLOU, T.BAROUS, M.NEZI, M.BIRLIRAKI ASSOCIATE ARCHITECTS
STRUCTURAL ENGINEER: ELLINIKI MELETITIKI
MECHANICAL ENGINEER: E.ZISIMATOS – D.MARINOS – N.MPARTSAKOULIAS
ARCHITECTURAL CONSULTANT: A.N.TOMBAZIS
SURVEYOR: G.TITELIS
LIGHTING CONSULTANT: DIATHLASIS, N.VAROPOULOS