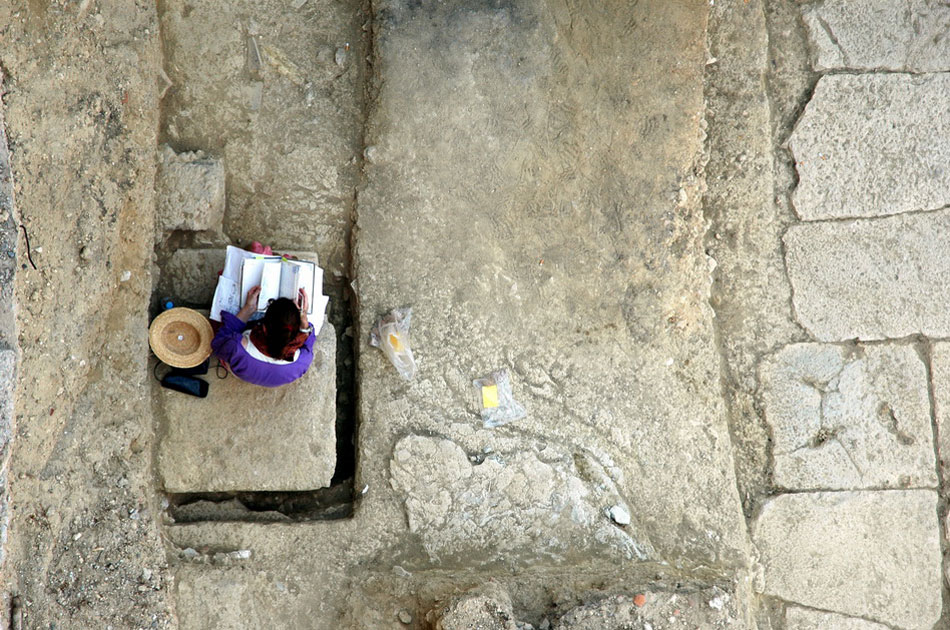 The archeological site is situated along the coast of Koumoundourou in Microlimano, Piraeus.It is the only one that keeps intact three of the ancient boat slips that are the covered slipways for the ancient trireme rowboat "triiris", which existed along the coast of the gulf of Mounichia. The investors in collaboration with our office agreed not to negotiate for a building code variance, although building a basement and parking as well as exhausting the floor-area ratio was not possible. They were instead fined for each lost parking space, loosing at the same time buildable area. Also, complying with the local law regarding archaeological sites, they provided funds for the high additional cost of excavations and other necessary operations for the archaeological site's rehabilitation. It should be highlighted that the City tends to consider the rehabilitation of archaeological sites as a case that is in the hands of an "unlucky" private owner instead of the greater public.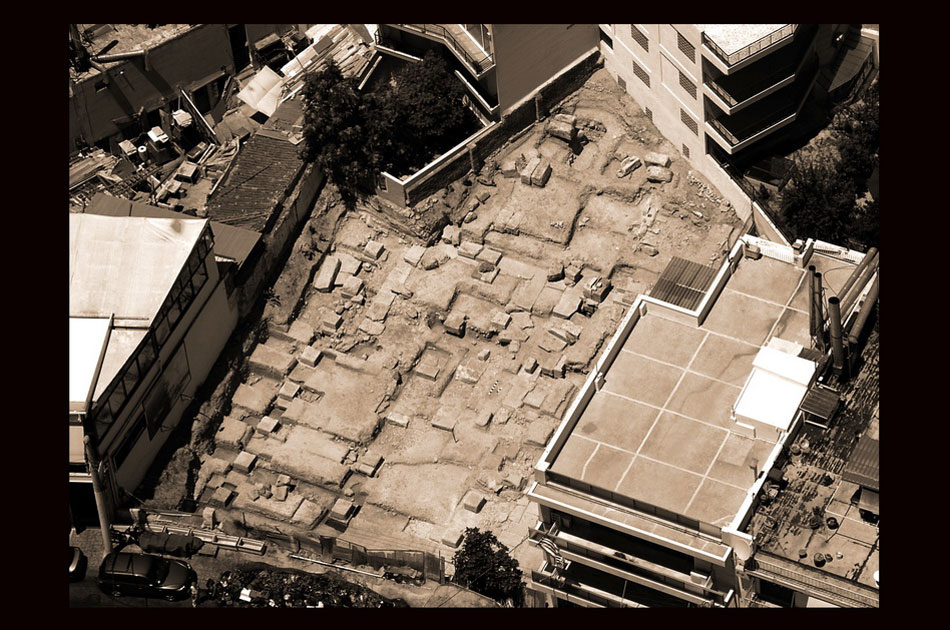 AERIAL VIEW OF ARCHAEOLOGICAL SITE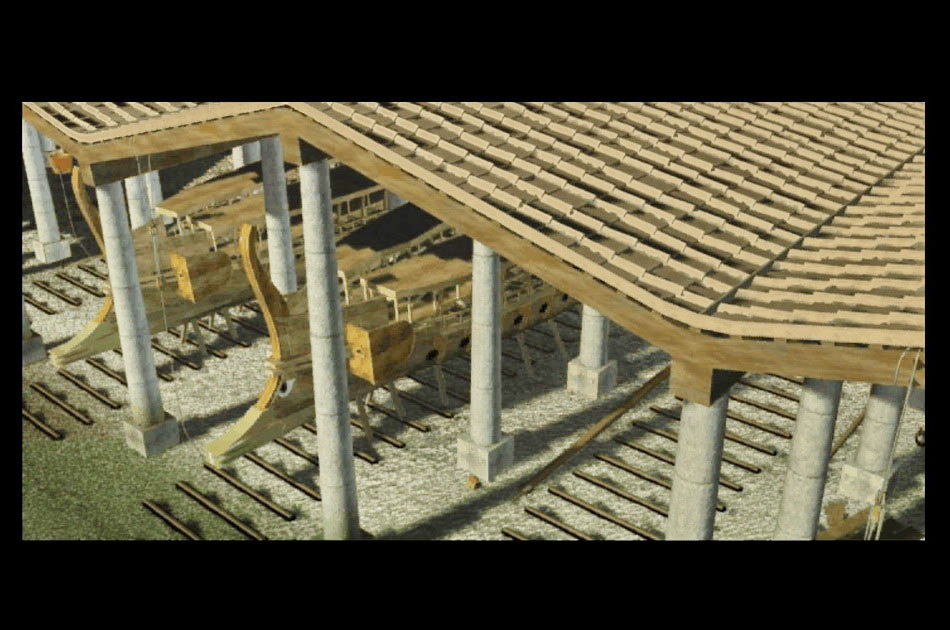 REPRESENTATION OF ANCIENT BOAT SLIPS(Aarchitecture & Design Aaborg University – © CHIMERA)
The building was designed to host high standard hospitality functions. The main design principles, that stem from the requirement of rehabilitation, is providing for the site's ease of access with controlled entrance and circulation around the excavation area and primarily the best use of the view to the archaeological site, both from the public sidewalk and the building's interior.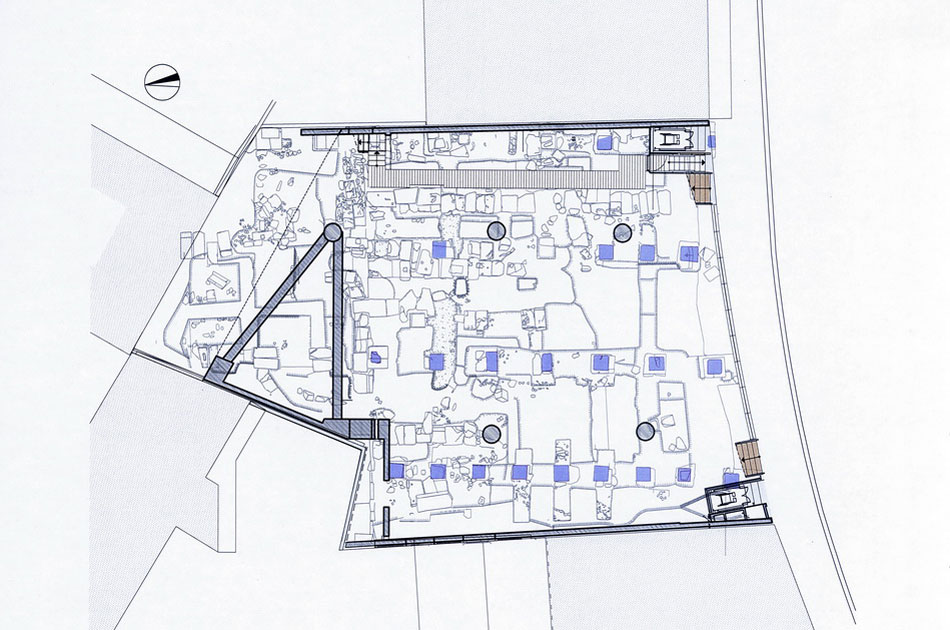 FLOOR PLAN OF ARCHAEOLOGICAL SITE, IN BLUE THE COLUMN BASES OF BOAT SLIPS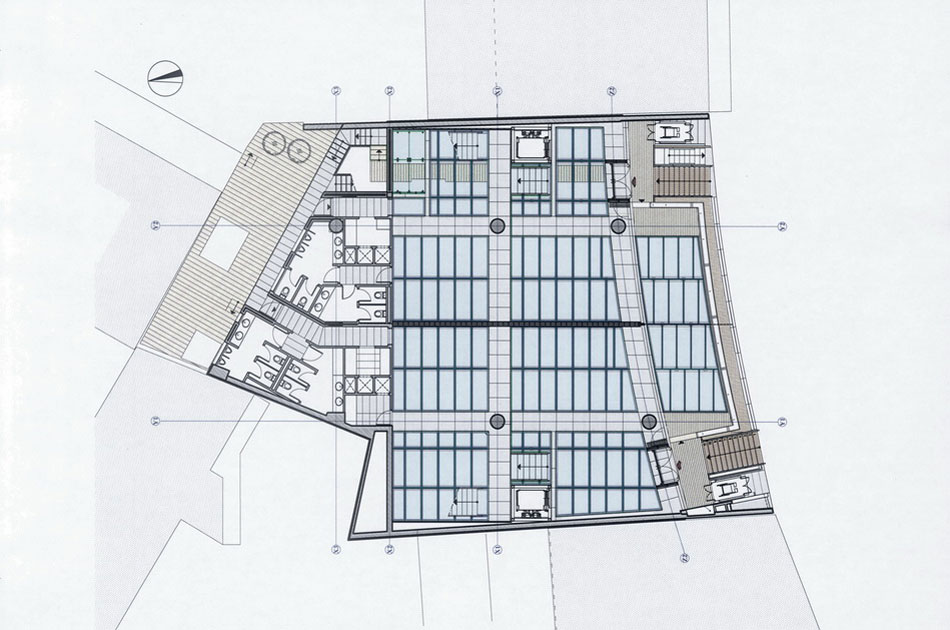 ELEVATED GROUND FLOOR PLAN -GLASS FLOORING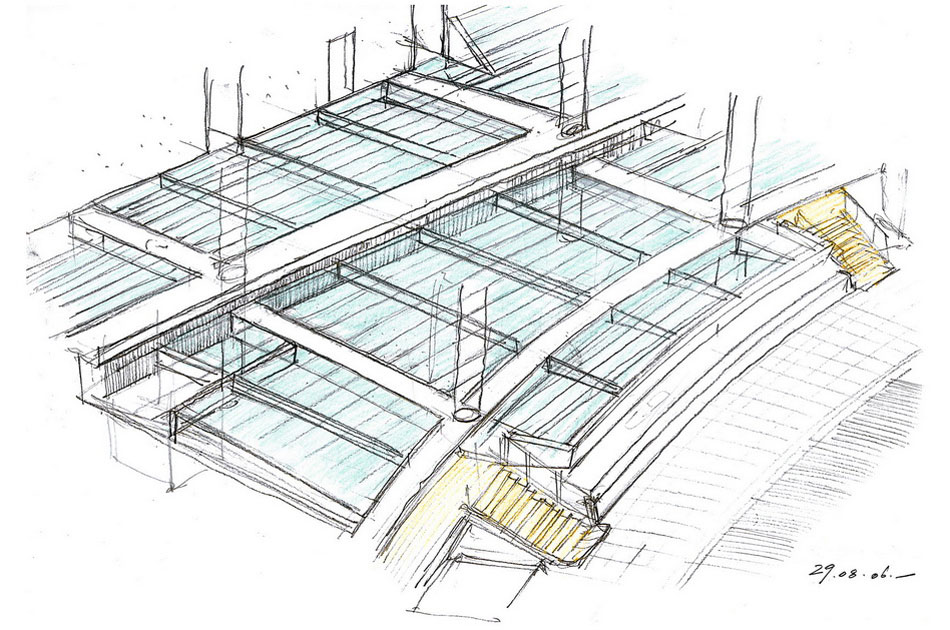 PERSPECTIVE OF ELEVATED GROUND FLOOR WITH GLASS FLOORING

The building then was recessed behind the lot line, the main floor was set higher than the street level and made out of glass, both at its two interior levels and the patio.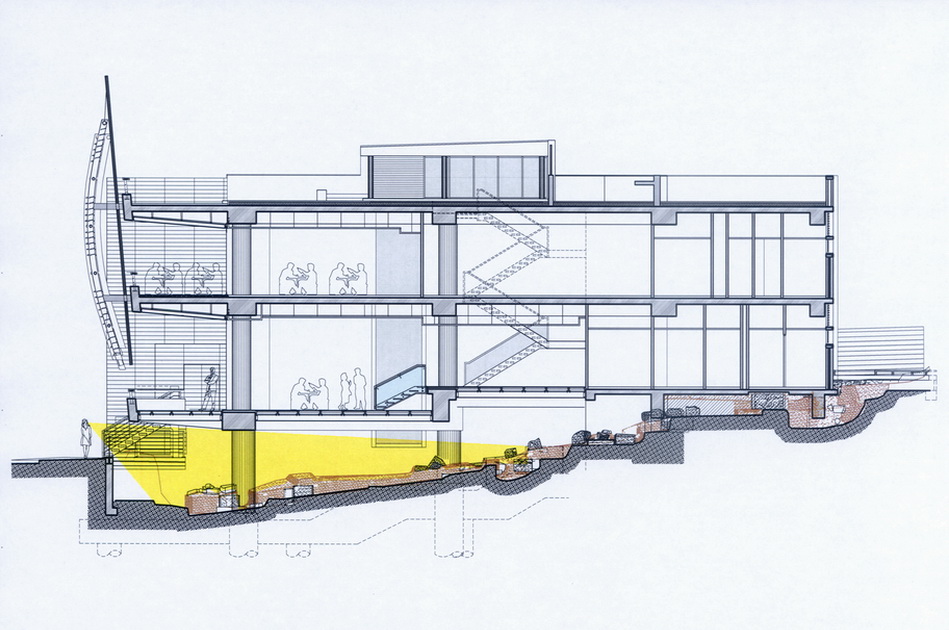 SECTION BB, IN YELLOW  THE OBSERVER'S WIEWING ANGLE FROM THE SIDEWALK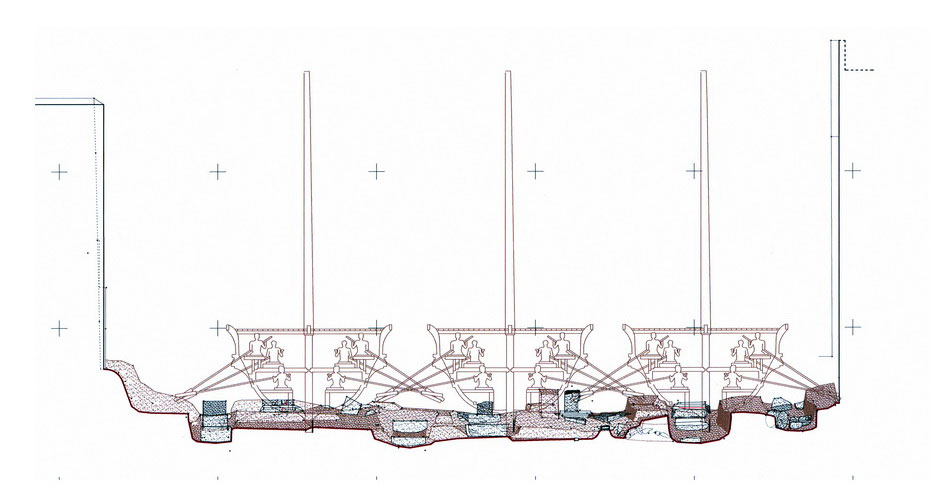 TRANSVERSE SECTION OF SITE WITH THREE TRIREMES IN THEIR POSITION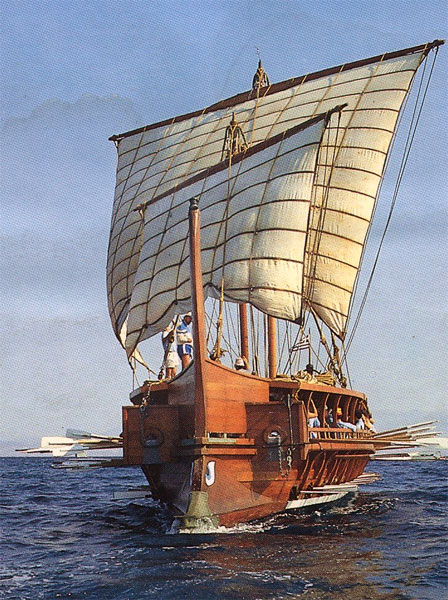 THE TRIREME "OLYMPIAS"
The building's southern façade was intended to be stark. In an effort to avoid any unpredictable use of multicolored canvas awnings, the shading issue was conceptually based on the cross section of the archaeological site's survey and the trireme "OLYMPIAS". Below, an initial sketch that led to a sculptural design, a screen reminiscent of the trireme's sails.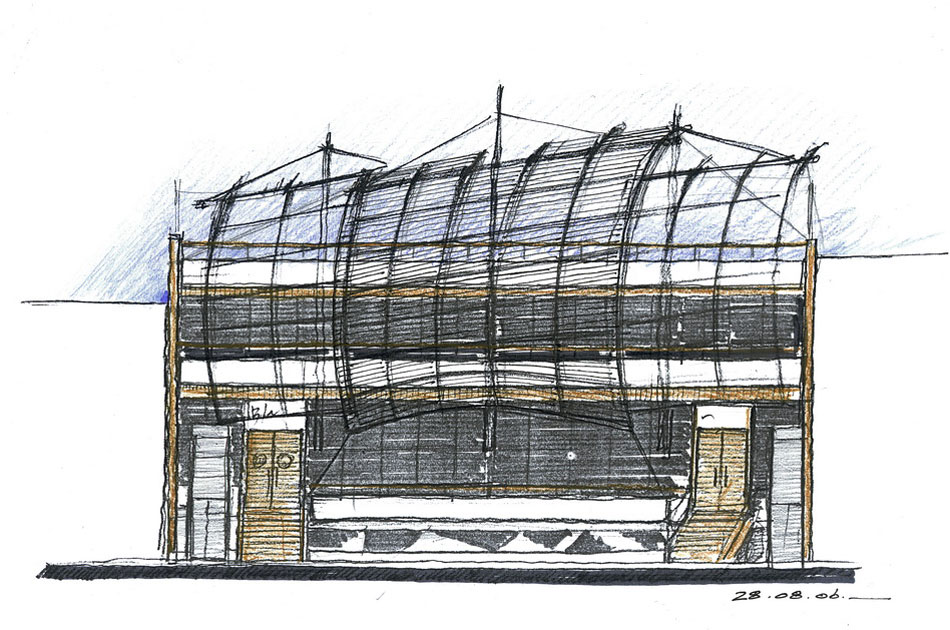 THE INITIAL SKETCH THAT LED TO A SCULPTURAL DESIGN FOR THE SHADING OF THE BUILDING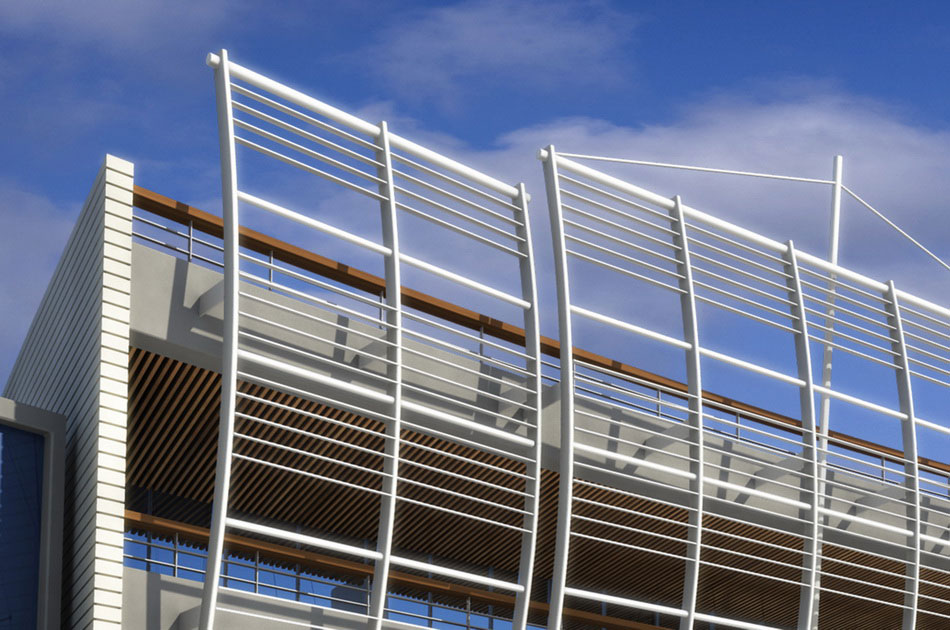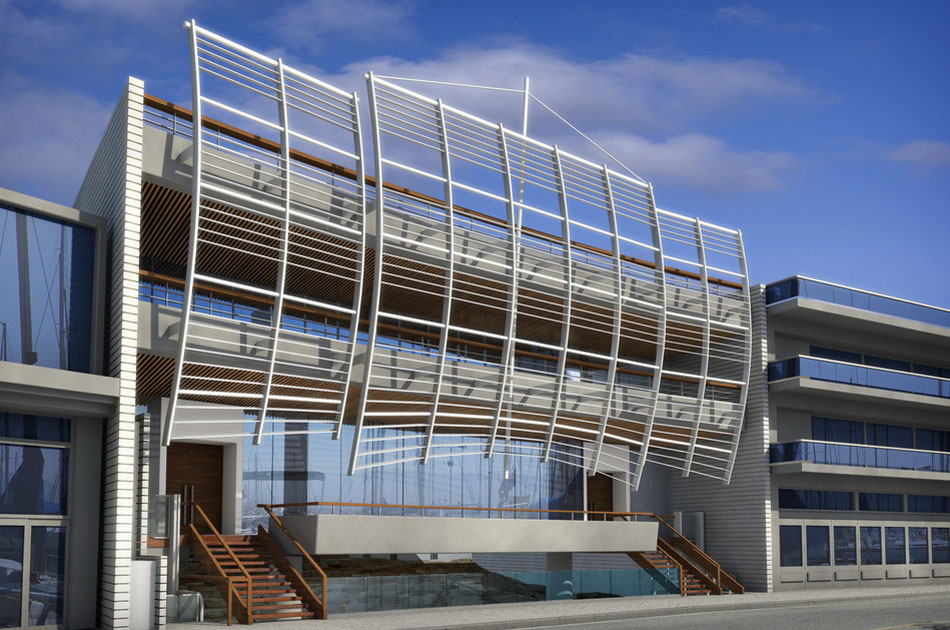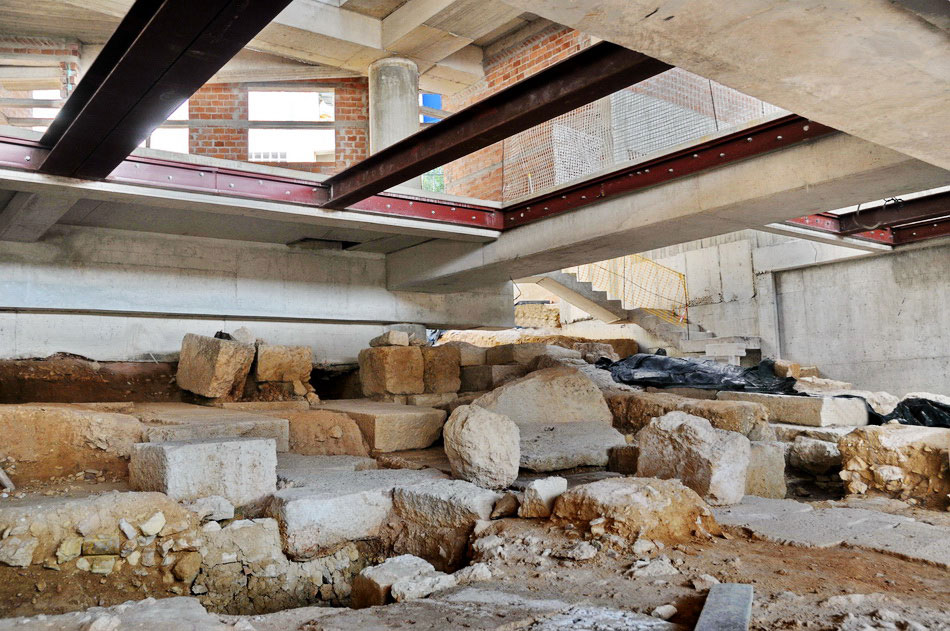 The entire implementation process was undertaken in collaboration with the 26th Ephorate of Prehistoric and Classical Antiquities and it is related to that of the Acropolis Museum and the Greek National Bank in Aiolou Street. The building's foundation is through pillars on carefully assigned positions so as to have minimum impact to the archaeological site.
The completion of the building's construction, although an exemplary private sector rehabilitation case, has been delayed significantly, due to consecutive ungrounded appeals to the Council of State of Greece.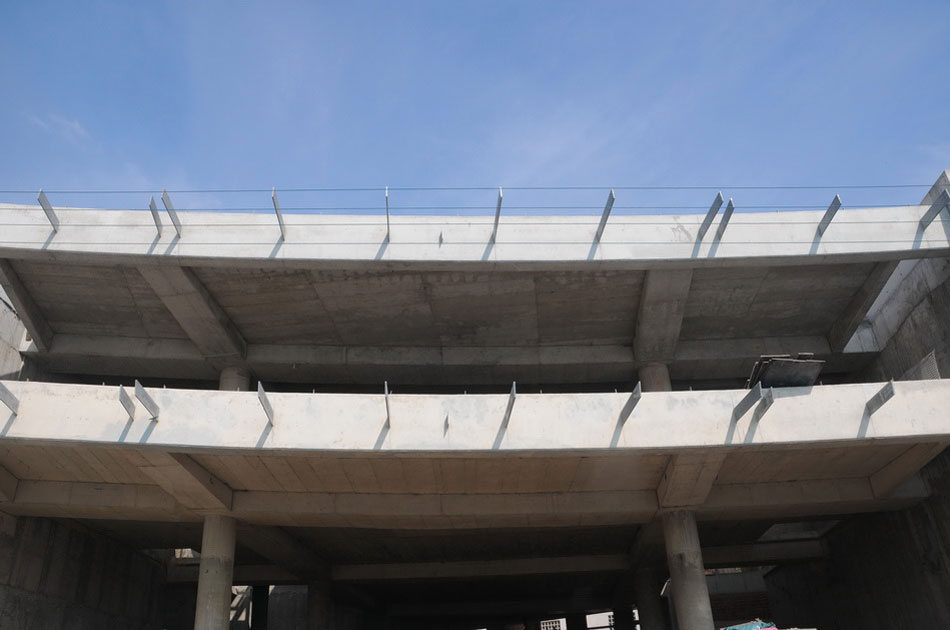 NEW TWO-STOREY BUILDING – INTEGRATION IN ARCHAEOLOGICAL SITE OF BOAT SLIPS IN KOUMOUNDOUROU 22. MIKROLIMANO, PIREUS GREECE
SITE: MIKROLIMANO, PIREUS GREECE
YEAR: 2006
AREA: 877M2
COMISSION BY: JAVELIN MICRO REAL ESTATE
ARCHITECT: GEORGE TRIANTAFYLLOU & PARTNERS
G. TRIANTAFYLLOU, T.BAROUS, Μ. ΝΕΖI. Associate Architects
STRUCTURAL ENGINEER: CH.KIRPOTIN-P.VASINIOTI-G.VROCHIDIS
MECHANICAL ENGINEER:  INSTA, CONSULTANT ENGINEERS
LIGHTING CONSULTANT: DIATHLASIS, MINA MANTZARI
3D VISUALIZATION: GEORGE POLYZOS